Off Campus Housing
Living off-campus, while studying at UF, can be a satisfying and rewarding experience that can add to a student's educational experience. Before choosing a residence, students need to consider what needs and preferences they have for not only cost of living and rent but also the distance from campus, length of lease, roommates, and safety to name a few.
OCL recommends you take your time when looking for off-campus housing. There are plenty of apartments, condos, and houses for rent in Gainesville, shop around for the perfect place to live, and only sign a lease when you are ready.
Step 1: Don't Rush
OCL is here to help you with your search and we recommend following the steps below to assist you with your housing search:
Gainesville is a renter's market so take your time and enjoy the search. It can be an exciting experience to choose your future home! Off Campus Life has two resources to assist you with your housing tours and to help you make the best decision about off-campus housing. The first is a list of questions to ask when touring apartments click here and the second is an apartment rating checklist.
Step 2: Budget
Most students typically live in 4 bedroom apartments with each student having their own bedroom and bathroom. The roommates share the kitchen and living room. These types of complexes allow students to meet other students and share in the cost of off-campus housing. The average cost for a room in a 4 bedroom complex is $560/month. This cost is all-inclusive and typically covers rent, utilities, cable, and internet. Most complexes do have a cap on utilities so when touring complexes, ask for the cap amount. Any amount of utilities that roommates spend over a utility cap is split between the roommates. Some fees associated with signing a lease off-campus include application fees, redecoration fee, processing fee, first and last month's rent, deposit, pet fees (if applicable), and cost for furniture per month. Consider these extra costs in your budget.
Gainesville also has 3 bedrooms, 2 bedrooms, 1 bedroom, studio apartments, condos, and houses for rent. Below are some average rental costs by bedroom and type. Keep in mind these are averages so costs can vary above and below the average.
Rent Averages & Additional Costs 2023-2024 
---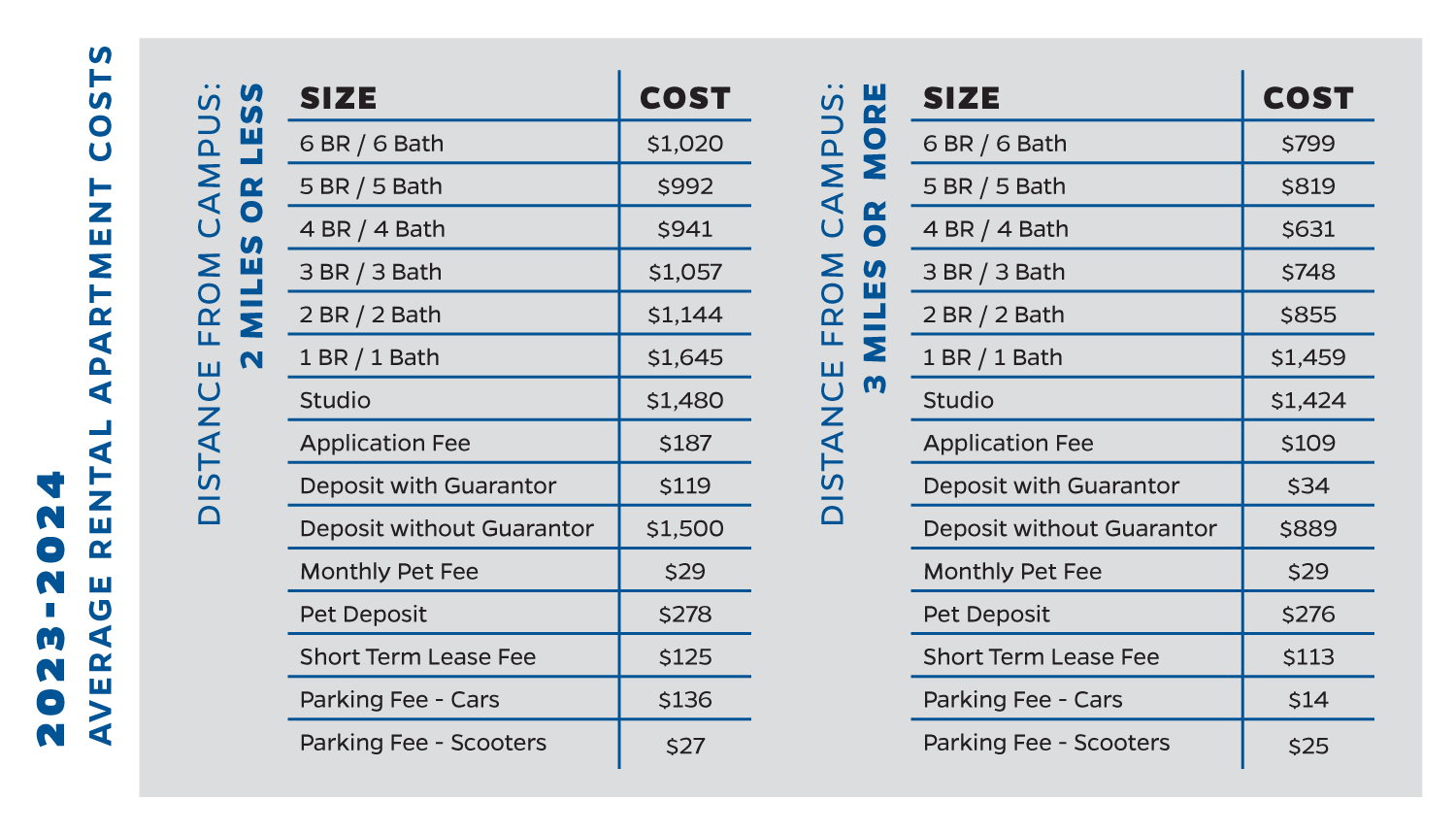 Step 3: Free Housing Locator
Visit the Off Campus Life Housing Locator to search our database for off-campus housing. You can customize your search based on various criteria such as price, location, amenities, number of bedrooms, pet-friendly properties, etc. You can also use the housing locator to search for a sublease and find roommates.
Step 4: Tour
Off Campus Life recommends that you tour at least 5-6 different apartment complexes before you sign a lease off-campus. We also advise that you NEVER sign a lease in a complex that you have not toured in person. When taking a tour check for safety features such as lighting, property upkeep, property amenities, distance to campus, bus stop location, and neighborhood features. Also, make sure to take note of management/landlord and if they are friendly and helpful. Keep track of your likes and dislikes for each property and refer back when making your final decision.
After you've found the right place to live utilize the Off Campus Life Packing List, this list will help you to pack exactly what you need for your move to Gainesville.
Step 5: Leases
Gainesville has two types of leases: individual and joint. An individual lease allows all roommates to sign their own lease. Under an individual lease, each roommate is responsible for their own rent so if a roommate does not pay their rent, the other roommates will not be held responsible for the rent. The individual lease is the most common lease for 3 or 4 bedrooms apartments and is recommended by Off Campus Life.
The other type of lease is the joint lease which is more common in houses and condos for rent. This lease also requires all residents to sign the lease, but under a joint lease, the landlord can hold the other roommates responsible for the cost if a roommate does not pay the rent or utilities. For more information about renting a house or condo in Gainesville see Step 11.
Some complexes require students to have a guarantor or co-signer for their lease. The guarantor is typically a family member who is willing to assume the monthly cost for the rent if for any reason you are not able to pay the rent.
Off Campus Life suggests you only sign the lease for the length that you need. If you know that you only need or want a 6- or 10-month lease, ask the complex to accommodate this need. Some complexes will charge you a monthly fee for a lease shorter than 12 months, but that cost will likely be less than having to pay for months of rent that you do not need.
Also, check the move-in and move-out dates in the lease before signing it and make sure they are before classes begin and after classes and finals are over.  For the academic dates visit UF's Registrar office website. It is YOUR responsibility to make sure these dates are correct before signing your lease or you run the risk of having to move out before your academic semester is over.
Subleases
A sublease is an arrangement where a student assumes another student's responsibilities for his or her apartment lease for a certain period of time. Subleases are common in Gainesville, and students looking to sublease appreciate another student taking over their lease so they can study abroad or complete an internship for the semester. Subleasing is a great way to also find a short-term lease for a specific semester. Below are some tips to follow to post a sublease or search for a sublease.
To list a sublease:
Check your lease first, and confirm with your landlord/management that you can sublease
Check your lease to find out if you are responsible for any sublease fees
Visit the OCL Housing Locator website housing.offcampus.ufl.edu
Click on Add a Listing in the blue bar at the top of the page
Under UF Students, Faculty & Staff click Sign Up
Complete the Member Registration – you MUST use your ufl.edu email to post for FREE
Post your sublease listing
Follow up with any contacts
Let your current roommates meet any potential sublease candidates
Make sure the landlord or property management knows that someone is taking over your lease
Make sure you have any paperwork from the landlord or apartment complex management releasing you from the lease
To find a sublease:
Visit the OCL Housing Locator website housing.offcampus.ufl.edu
Click on the white View Rentals button
Under the More drop-down menu check the box Sublet for the term you are looking for
Search & contact the listings that interest you
Tour properties in person
Meet potential roommates
DON'T enter into a verbal agreement with a sublease
ALWAYS sign the lease directly with the landlord or apartment complex
You want the landlord or apartment complex to know you are living there
You want any rent money you pay to go directly to the landlord or apartment complex
Read sublease agreements very carefully before signing
UF's Student Legal Services can review sublease agreements before you sign them studentlegalservices.ufl.edu
Check bus routes www.go-rts.com
Check crime statistics cityprotect.com
Make sure lease dates match with academic dates
Need help understanding your lease?
Another resource for students at UF is Student Legal Services. This UF office provides free legal service for full-time students. You can set up an appointment with Student Legal Services to review the leases you are considering before you sign a lease. To make an appointment, visit the Student Legal Services website and complete the client intake form. Even if you are not currently taking classes, you can still take advantage of this resource. Just note on your intake form that you are a new student.
Step 6: Safety
Off Campus Life advises going back to tour a prospective complex or house at night to check for various night safeguards:
Is there adequate lighting?
Is the security gate working?
Are the security guards that were promised there?
How's the complex noise level?
Another great resource to check before signing a lease is called City Protect City Protect Provided by the Gainesville Police Department, City Protect allows you to see all the crime that has occurred in certain areas in the past week or months. Enter the addresses of the complexes or houses you are thinking about signing a lease at and a map with a reported crime will pop up.
For more safety tips, see the Gator Guide to Off Campus Life.
Step 7: Renters Insurance
Off Campus Life recommends students purchase renters insurance for coverage in their rental apartment or house. If you are still financially dependent on a family member and this family member owns a home, check the homeowner's policy first to see if there is coverage for your rental property while in college. Some homeowner's policies will cover dependent belongings in a rental or residence hall while in college, some policies will require an additional monthly fee for coverage, and some policies will not allow coverage. If this type of coverage is not available then we suggest looking into purchasing a renters policy. Renter's insurance on average ranges from $5-35 per month and often can be added to an existing car insurance policy. Any good renters policy will cover the replacement of your belongings in your rental property due to damage because of lighting, storm damage, fire, smoke, or theft. To learn more about renter's policies come by the OCL office and pick up the Gator Guide to Off Campus Life, or check out the PDF version here. OCL's annual publication will have information about renters policies and OCL staff can help to answer your questions. Make sure you are covered before the unexpected happens. If you are looking for an insurance company in Gainesville, OCL recommends McGriff-Williams Insurance. Here is a great blog post provided by McGriff-Williams insurance with helpful information about what renters policies cover and what type of coverage you should purchase. Thanks, McGriff-Williams.
Step 8: Transportation
The number one mode of transportation for students is the RTS (Regional Transit System) bus system. All students pay a transportation fee as part of their tuition and fees which allows students to take the bus anywhere both on and off-campus. Students simply show their student ID and they can take the bus anywhere. Over 90% of students utilize the bus on a daily basis and 90% of the apartment complexes are located on the RTS system. To learn more about bus routes and the resources that RTS provides please visit their website.
If you are interested in driving to campus, you must purchase a decal to be able to park on campus between 7:30 a.m. - 4:30 p.m. After 4:30 p.m. on weekdays, you are able to park on campus in most areas without a decal. Be sure to read the signage for appropriate parking locations and hours. For more information on purchasing a parking decal, visit the UF TAPS website.
Step 9: Roommates
Most complexes provide roommate matching but every complex differs in how they pair roommates. Some complexes will place students where there are vacancies while other complexes will have students fill out forms to find out their living habits and preferences. Complex management utilizes these lifestyle questionnaires to match roommates with similar preferences. Be sure to ask questions about how each complex matches their roommates when taking a tour.
Download a Roommate Agreement created by OCL staff for your use by clicking here.
Also, don't forget to utilize the FREE roommate matching services on the OCL housing locator.
Step 10: Get Involved
Take advantage of all the great opportunities and resources that UF has to offer. Get involved by getting a job on campus, joining a student organization, doing research, joining a fraternity or sorority, signing up for intramurals, or simply taking advantage of the many activities that are happening on campus every day. Getting involved with academic and leadership opportunities will help you to be a successful student, help you to make friends, and prepare you for graduation. Check out the Student Activities and Involvement Website for more information on getting involved on campus.
Step 11: Renting a House
Renting a house or condo in Gainesville often requires a 12-month commitment to a lease. While short-term lease options are few and far for apartments, it is particularly rare to find a landlord who offers a lease shorter than 12 months for a rental house. So If you are not planning on staying in Gainesville for the entirety of your lease commitment (a whole year) you might consider subleasing for the semester or months you will be away. There are many differences between renting an apartment and a house or condo that you should understand before signing a lease.
Utilities: When renting a house the leasers are responsible for setting up and paying for their own utilities, cable, and Internet, unlike all-inclusive apartment deals. To get average utility costs for the house you are thinking about renting contact Gainesville Regional Utilities (GRU) -- (352) 334-3434.
Parking: Most houses have their own garage and driveway so you and your roommates can park in designated parking areas set up by your landlord. However, some houses only have street parking. Each car that parks in street parking need a decal issued by the City of Gainesville for that particular "parking zone."
Pertinent City Ordinances: Gainesville has a city ordinance that limits the number of occupants to a house to no more than three unrelated people within the University Context Area. Essentially, you cannot have more than three people living in the same house unless two or more of them are family in certain areas of Gainesville. So make sure to ask your landlord for the allowed occupancy number of the house when choosing the number of roommates, because failure to comply with the occupancy numbers is grounds for eviction.
Landlord Permit: Landlords are required to purchase a permit through the City of Gainesville that allows them to rent a house. It is a good idea to make sure that your landlord has a permit before you sign a lease. Visit the City of Gainesville website to check by address or name whether your landlord has a permit.
Garbage & Recycling: Houses have both garbage receptacles and recycling bins for paper, cans, and bottles. Neighborhoods have a specific garbage and recycling pick-up day, so make sure that your cans and recycling bins are placed at the curb by 7 a.m. on your pick-up day and removed that same day after pickup.
Questions
Off Campus Life loves questions. Contact OCL by email oclcontacts@ufsa.ufl.edu or by phone at 352-392-1207.